One 2 One Logistics – "Your Reliable Logistics Partner"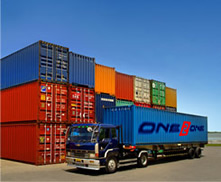 At One 2 One Logistics Ltd., we provide complete integrated logistic solutions customized to individual needs.

VISION
Our vision is to be the leading and most preferred logistics provider.

MISSION
To provide the highest possible level of professional clearing, forwarding and warehousing solutions which will minimize costs resulting from delayed transit time of cargo, through understanding the clients' business and providing efficient, cost effective, dedicated solutions for individual client needs.

QUALITY STATEMENT
To respond immediately to the changing environment with pre-determined business processes, to effectively and efficiently manage the highest output from the lowest input and to keep ensuring total customer satisfaction is the strongest measure of quality. A quality service depends upon continous customer interaction and feedback. We adopt a work culture with a "we can and we will" attitude to reflect in our daily responsibilities so as to keep delighting our customers with impeccable personalized services.
WHY CHOOSE ONE 2 ONE LOGISTICS ?
Our Products
1. Customs Clearance & Brockerage for Import & Exports

2. Inland Haulage / Transportation

3. Warehousing & Collateral Management

4. Distribution from Warehouses to the Client's customers

5. Complete Supply Chain Management Solutions for Imports & Exports
Team Leader
Newton Wang'oo
Operations Director
+254 722 926 826
info@o2ologistics.com